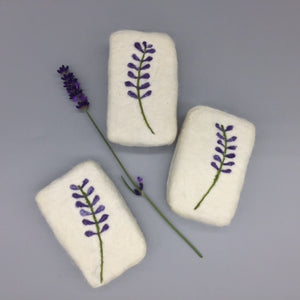 Traditional cold process soap, made with Shea Butter, Coconut Oil, Castor Oil, Sunflower Oil, Lavender Essential Oils and felted with merino wool and a Lavender design
Felted Soaps are a soap & washcloth in one!  Felting the soap makes it longer lasting, gently exfoliates the skin and helps prevent sogginess in the soap dish! Once the soap has been used up, the wool can be composted.
Each design may vary slightly as they are individually needle felted.
Tied with a hemp cord and a brown kraft tag.
Minimum weight 90g